September Support Group Meeting
A speech therapist from the Monroe-Meyer Institute is our speaker and will be talking about exercises that can be done to assist with speaking and swallowing. Hopefully we'll get a workout! They may also touch on some of the speech assistive devices available.
This will be our first in-person support group meeting since the start of the pandemic. So don't forget we usually have a catered lunch.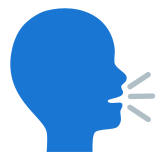 Saturday, September 18
11 am – 1 pm
For those who can't physically make it, you can still join our meeting via Zoom (see how below). We just can't send you virtual food.
Saturday, September 18
How to Connect using Zoom
You can join support group meetings or social events via video on your computer or using a mobile device. One can also simply call in and join.
If using a computer or mobile device
1. Download Zoom onto your computer or mobile device
https://zoom.us/download
2. Open via this link: https://us02web.zoom.us/j/81319965524?pwd=MGN3ME1wenp3bEZtbGJreVQzRVVzdz09      OR
3. Open Zoom
4. Enter the meeting ID: 813 1996 5524
5. Click the Join button
6. Enter the meeting password:  027035
7. Click the Join button
Breakout Sessions During Support Group Meeting
1. Skip will assign us into our breakout rooms
2. Click the Join Breakout Room button
3. When session ends, click the Return to Main Session button
If using a phone to call
+1 312 626 6799 US (Chicago)
Meeting ID: 813 1996 5524#
Participant Number: #
Password: 027035#
Email Skip if you have any questions or would like to schedule a test run with him sometime before the meeting.